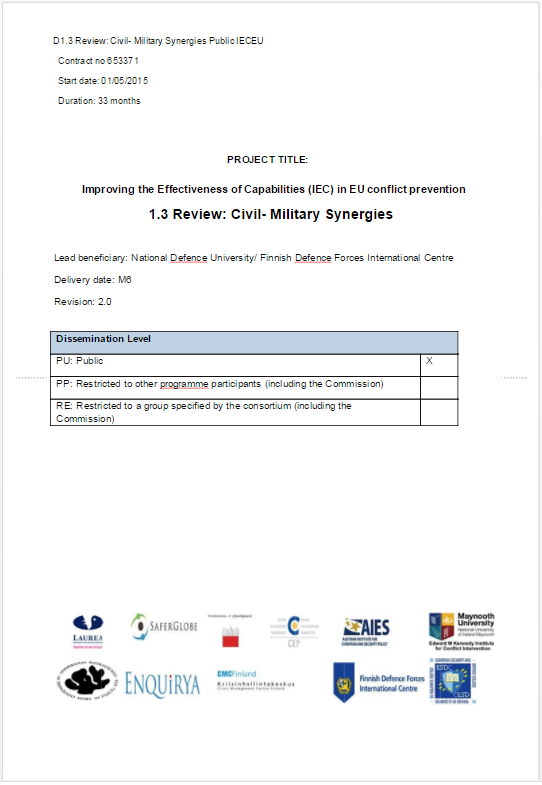 D 1.3 Review of civilian and military synergies
Lead beneficiary: National Defence University/ Finnish Defence Forces International Centre
Delivery date: M6
Revision: 2.0
Executive Summary:
European Union (EU) is a unique actor in conflict prevention and crisis management in comparison to its international counter partners. It has vast potentiality in combining civilian and military means to tackle a complex crisis. Combining the strengths of both military and civilian capabilities can enhance the visibility, impact and efficiency of EU's interventions, thereby supporting the EU's Foreign Security Policy objectives. The Common Security and Defence Policy (CSDP) enables the EU to take a leading role in peace-keeping operations, conflict prevention and strengthening international security.
Purposeful coordination and cooperation between the different EU actors, namely between civilian and military ones, is perceived to be of utmost importance for the coherence and efficiency of the EU's conflict management efforts. The aim of the civil- military cooperation/coordination imperative is not about creating new structures nor new mechanisms, nor about merging respective capability development processes. It is about acknowledging one another's competences, identifying the combination of the full range of available capabilities and resources and use them in a coordinated and coherent manner, thereby reinforcing the desired progress and create synergies where appropriate. Promoting this culture of coordination requires the interagency members, to the greatest degree possible, to resist seeing their capabilities and resources as belonging to a single agency, but rather as tools of the EU's power to achieve the desired outcome by sharing, leveraging, synchronizing, and applying them.
This deliverable "Review: civil- military synergies" is a first step in the implementation of the IECEU project, which aims to enhance the effectiveness of the European Union's conflict prevention capabilities. This is done by identifying how to increase the interoperability of resources and capabilities and identify the potential for pooling and sharing. The aim of this deliverable is to outline the existing practices of civil- military cooperation and coordination within CSDP, thereby contributing to the identification of potential synergies between CSDP civilians and military instruments that are achieved through EU's comprehensive approach. The prerequisite for this report is that efficient conflict prevention requires parallel deployment of military and civilian instruments that are operating, if not integrated, in a cooperative and coordinative manner.
To achieve the objectives set for this report an extensive desk research, key informant interviews and panel discussion were conducted thereby gaining a comprehensive understanding of the issue. As a result, we found out that cooperation and coordination between the EU's civilian and military functions is a complex challenge with numerous structural, political, technical and ideological facets. A number or barriers to interoperability could be identified at political- strategic level, such as, a lack of a united policy line among the member states when it comes to military interventions, a lack of coordination between EU institutions and with partners when planning, conducting and supporting a CSDP mission/ operation and the issue of funding the missions and operations, and at operational level, such as, insufficient capabilities to reach the mission/ operation objectives, absence of common training and recruitment standards and a lack of a sufficient communication system that would enable secure information sharing between the EU actors.  In addition, a number of areas where added value could be achieved through enhanced cooperation and coordination between CSDP civilian and military functions were identified, including areas such as, Strategic Communication, Information sharing/dialogue, Shared accommodation, Warehouses, Transportation, Security arrangements, Common Medical facilities, Common pre-deployment and "on-theatre" training, Mutual/Integrated civil-military Lessons process and Security provision of the CSDP staff.
This deliverable is divided into 4 chapters (Chapters 2-5). Chapter 2 discusses the key concepts relevant to civil- military relations in CSDP. Chapter 3 examines the intra- institutional cooperation and coordination practises within EU's crisis management structures, focusing on the interaction in short-term (operational) conflict prevention instruments, in particular, analysing the current practises from the conduct of CSDP missions and operations. This chapter includes analyses of the interaction between CSDP missions and operations which have been operating in the region parallel. Chapter 4 discussed CSDP's lessons learned process and key lessons identified, related to cooperation and coordination between civilian and military crisis management capabilities and Chapter 5 reviews the intra-institutional cooperation and coordination between CSDP and the main international actors outlining the existing practises.