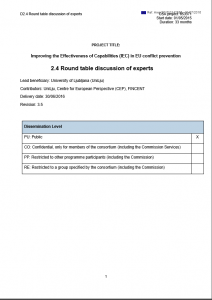 D 2.4 Round table discussion of experts
Lead beneficiary: University of Ljubljana (UniLju)
Delivery date: 30/06/2016
Revision: 3.5
Executive Summary:
The main objective of this discussion report (D2.4) is to collect findings from the roundtable, organized by three consortium partners in the IECEU project (University of Ljubljana, FINCENT, Centre for European Perspectives – CEP) on 24 May 2016 at Jable Castle, Slovenia. The round table was organized in the framework of WP2 'The Balkans', as envisaged in the Grant Agreement. Several experts working in Bosnia and Herzegovina, Kosovo, and other European countries were invited to the roundtable to assess the findings the IECEU researchers had collected during their field work in Bosnia and Herzegovina and Kosovo in February-March 2016. In addition to that, the representatives of security-enforcement institutions (Slovenian Armed Forces and Slovenian Police), Ministry of the Interior, Ministry of Foreign Affairs, think tanks and academia also participated, so as to evaluate the IECEU researchers' findings from various perspectives.
The round table consisted of two parts (see Annex 1 – Invitation to the round table). The IECEU researchers and a selected number of invited experts well informed on one or both of the two CSDP missions/operations (EULEX and ALTHEA) took part in the morning (internal) discussion, which was intended to scrutinize the IECEU researchers' preliminary findings from the perspective of non-IECEU experts in order to receive external feedback from the competent people. The internal discussion was followed by the afternoon round table. Its aim was to reach wider audience by elaborating on the preliminary findings from the field trips and, at the same time, to foster a debate on the wider framework of conflict prevention capabilities of the EU and so contribute to the awareness-raising on these topics. The round table discussion was organized according to the Chatham House rules.
Based on the previously established methodological framework in WP1 (D1.4 – Success indicators; D1.5 – Conceptual framework) and analytical desk studies and field-work in WP2 (D2.1 – Kosovo review: desk study, D2.2 – Bosnia and Herzegovina review: desk study, and D2.3 – Primary field research and analysis: study report – see Figure 1 on the next page), the methodological approach undertaken in this deliverable allowed identification of the lessons-learned from both EULEX and ALTHEA on the basis of the round table discussion, in line with the six capabilities of the IECEU project.