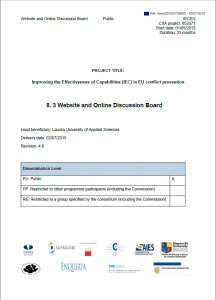 8.3 Website and Online Discussion Board
Lead beneficiary: Laurea University of Applied Sciences
Delivery date: 02/07/2015
Revision: 4.0
Executive Summary:
This deliverable (8.3) displays the planning and implementation of the Website and Discussion Board development, which has been designed by the Work Package (WP) 8.3 task leader: Laurea University of Applied Sciences. The specific aim of this deliverable is to describe the website and discussion board development processes and their functionalities.
The webpage and the discussion board implementation are part of the dissemination strategy. The webpage is developed in user-friendly manner and will provide all the public project information for users available online. The public webpage domain name is:  www.ieceu-project.com
This deliverable consists of eight sections. After the executive summary the following section is the project overview information. Further the third section provides information about the Website maintenance roles. The fourth section concentrates on the website maintenance and management. The following fifth section focuses on the plan for the website design. The public webpage structure is described in details in section six and the discussion board is illustrated in section seven. The document concludes with the last conclusions section.