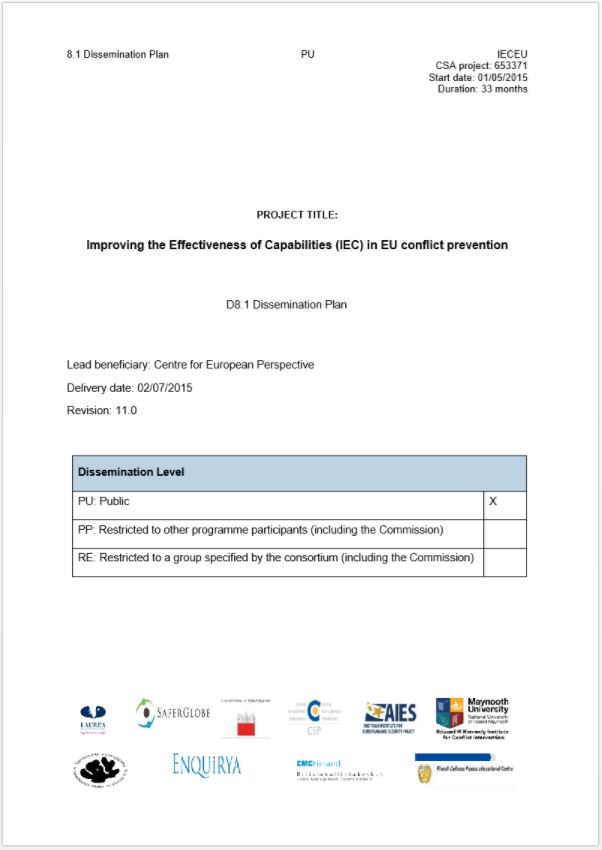 D 8.1 Dissemination Plan
Lead beneficiary: Centre for European Perspective
Delivery date: 02/07/2015
Revision: 11.0
Introduction
Dissemination Plan (DP) for the Project Improving the Effectiveness of Capabilities in EU Conflict Prevention (IECEU) represents an important tool to ease the dissemination of results and activities towards the relevant actors. The Work Package (WP) 8.1 leader, Centre for European Perspective, has designed this deliverable (D L8.1) and it is reviewed by all IECEU Consortium partners.
Dissemination is defined in the Horizon 2020 Rules for Participation in the following way: "The public disclosure of the results by any appropriate means, including by scientific publications in any medium". 1 As specified in the IECEU Project Management Handbook by dissemination we "refer to activities being aimed at the broad spreading of information and knowledge regarding issues, which include mainly information provision and raising awareness among a well-targeted wider audience."2 The main stakeholders of the IECEU project are the European Union, other EU projects on the same topic, EU Member States, CSDP missions and operations, particularly policy-makers, along with academic communities as well as other training organisations and think tanks. It is also relevant to amplify the engagement of different stakeholders in order to reach the set project goals. DP is an integral part of WP8 Dissemination, whose main objectives, include:
to ensure the end users, stakeholders and beneficiaries of the information are actively involved and to enhance their interest
to ensure efficient dissemination of the project goals, activities, progress and achievements between project participants and public
to participate and report in relevant forums to disseminate results, achievements and solutions
to provide the consortium with a strategic framework to follow in disseminating the work and results of IECEU
information collected from each partner enables the consortium to notice gaps in reaching specific identified stakeholder groups and different dissemination tools so that performance can be improved during the project duration.
This document consists of six sections. After the summary of the document, the following section provides a short IECEU project overview. Further in the document the third section concentrates on the placement of the dissemination plan within IECEU. The fourth section is focused on the dissemination methodology, whereas the fifth section describes the dissemination plan and the sixth session is dedicated to the monitoring of the mentioned dissemination plan.