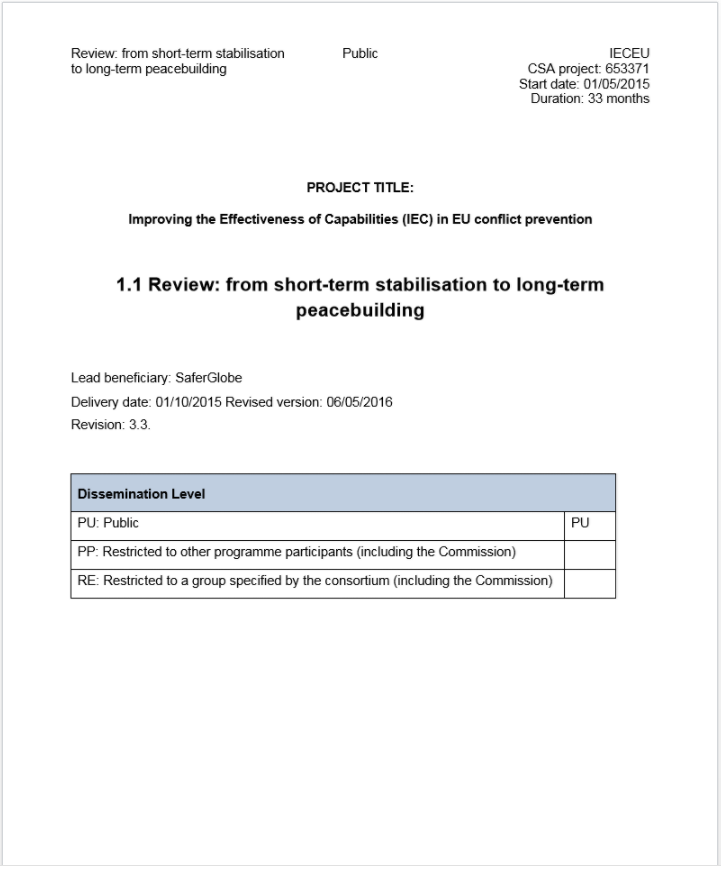 D1.1 Review: from short-term stabilisation to long-term peacebuilding
Lead beneficiary: SaferGlobe
Delivery date: 01/10/2015
Revision: 3.3
Executive Summary:
Since 2003, when the European Union launched its first peace missions or operations, over thirty have been initiated. Beyond these missions, the European Union is active in all countries that are fragile or conflict-affected according to OECD´s definition.  The breadth and depth of the EU's global engagement creates rare and valuable possibilities for conflict prevention and crisis management through the use of a wide-range of means from diplomatic dialogue to the missions deployed by the EU.
The European Union is an on-going project of institutional development and adjustment acceptance of new member states and institutional enlargement. With regard to foreign affairs and security policy, the project of institutional development became especially visible in the implementation of the Treaty of Lisbon of 2007 (ratified in 2009) which created the External Action and extended enhanced cooperation to CSDP.  In conflict prevention, mechanisms include the preLisbon treaty Programme for the Prevention of Violent Conflicts, which began a process leading to the EU's Early Warning System, Instrument for Stability (IfS) and EEAS´s "Conflict prevention, Peace building and Mediation Instruments Division."
This deliverable "Review: from short-term stabilisation to long-term peacebuilding" acts as the first step in implementation of the IECEU-project, which aims to enhance European Union´s civilian conflict prevention and peacebuilding capabilities of the European Union, by identifying how to increase interoperability of resources and identify potentials for pooling and sharing. The aim of this deliverable is to form a basis for understanding EUs legal and political frameworks, which guide, shape, establish and limit the ways that crisis management missions and operations function. The boundaries created by the frameworks are significant as they ensure that the EU operates both in accordance to international legal principles and maintains uniformly high standards wherever it operates.
The deliverable has four body chapters (Chapters 2-5). Chapter 2. analyses the concepts of crisis management and conflict prevention as well as establishes links between the two. For conflict prevention, the chapter highlights three inherently linked constitutive elements. Chapter 3 examines the evolution of EU´s approach to conflict prevention and crisis management demonstrating the centrality of conflict prevention to even the early efforts of integration. Chapter 4 discusses the EU´s institutions and instruments that are relevant to conflict prevention. Chapter 5. explores the legal foundations of EU´s conflict prevention and crisis management.  Underlying these four body chapters is a question of the future of European Union crisis management and the mechanisms by which the EU can shift focus from short-term stabilisation to long-term peacebuilding, which is further discussed in the conclusion.