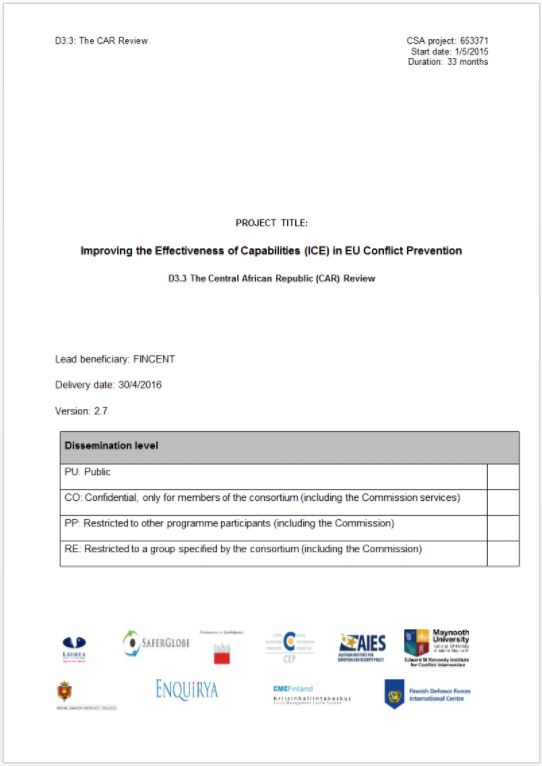 D3.3 IECEU Central African Republic Review
Lead beneficiary: FINCENT
Delivery date: 14/02/2017
Version: 2.8
General information about the country:
This section provides general information about the country1.
Official name: République Centrafricaine (formerly Ubangi-Shari)
Date of formation: 13 August 1960 (marking independence from France)
Capital: Bangui
Population: 5,391,539 (est. from March 2016)
Total area: 622,984 km2
Geography: Central Africa, north of the Democratic Republic of the Congo, 7.00 °N, 21.00 °E
Neighbours: Cameroon, Chad, Sudan, South Sudan, the Democratic Republic of the Congo
Languages: French (official), Sangho (lingua franca and national language), tribal languages
Religion: indigenous beliefs 35%, Protestant 25%, Roman Catholic 25%, Muslim 15%
Ethnic mix: More than 80 ethnic groups – Gbaya 33%, Banda 27%, Mandjia 13%, Sara 10%, Mboum 7%, M'Baka 4%, Yakoma 4%, others 2%
Government: republic
Legal system: civil-law system based on the French model
Economy: The CAR is classified as one of the world's least developed countries. Agriculture, forestry, and mining provide a livelihood for 60% of the population. The agricultural sector generates more than half of the GDP. Timber, diamonds, and cotton are the main exports. Important constraints to economic development arise from the CAR's landlocked position, a poor infrastructure, a largely unskilled workforce, and a legacy of misdirected macroeconomic policies. Factional fighting between the government and its opponents continues to take its toll on economic revitalisation.
Distribution of income is unequal. Grants from France and the international community can only partially meet the humanitarian needs.
Annual budget: $198.5 million (2012 est.)
Debt, external: $469.5 million (2012 est.)
Currency: CFA (Communauté Financière Africaine) franc