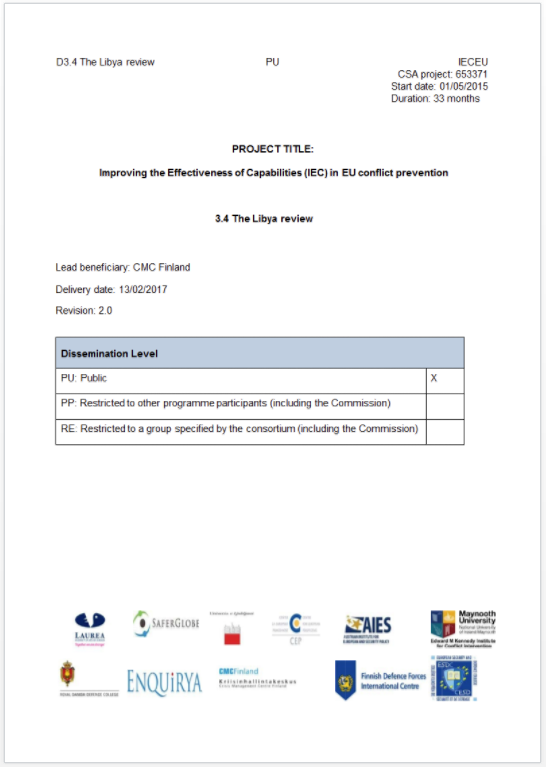 D3.4 IECEU Libya review
Lead beneficiary: CMC Finland
Delivery date: 13/02/2017
Revision: 2.0
General information about the country:
Official name: State of Libya
Date of formation: 24 December 1951 (from UN trusteeship )
Capital: Tripoli
Population: 6,411,776 (July 2012 est.)
Total area: 1,759,540 km2
Geography: Northern Africa, bordering the Mediterranean Sea, between Egypt, Tunisia and Algeria 25.00 °N, 17.00 °E
Neighbours: Tunis, Algeria, Niger, Chad, Sudan, Egypt
Languages: Arabic (official), Italian, English, Berber (Nafusi, Ghadamis, Suknah, Awjilah, Tamasheq)
Religion: Muslim (official; virtually all Sunni) 96.6.%, Christian 2.7%, Buddhist 0.3%
Ethnic mix: Berber and Arab 97%, other 3% includes Greeks, Maltese, Italians, Egyptians, Pakistanis, Turks, Indians and Tunisians
Government: Transitional government
Legal system: In flux and driven by state and non-state entities
Economy: Libya's economy, almost entirely dependent on oil and gas exports, struggled during
2015 as the country plunged into civil war and world oil prices dropped to seven year lows. In early 2015, armed conflict between rival forces for control of the country's largest oil terminals caused a decline in Libyan crude oil production, which never recovered to more than one-third of the average pre-Revolution highs of 1.6 million barrels per day. The Central Bank of Libya continued to pay government salaries to a majority of the Libyan workforce and to fund subsidies for fuel and food, resulting in an estimated budget deficit about 49% of GDP.
Annual budget: $35 billion (2012 est.)
Public debt: 6.6% of GDP (of $29.72 billion, 2015 est.)
Currency: Libyan dinar (LYD)