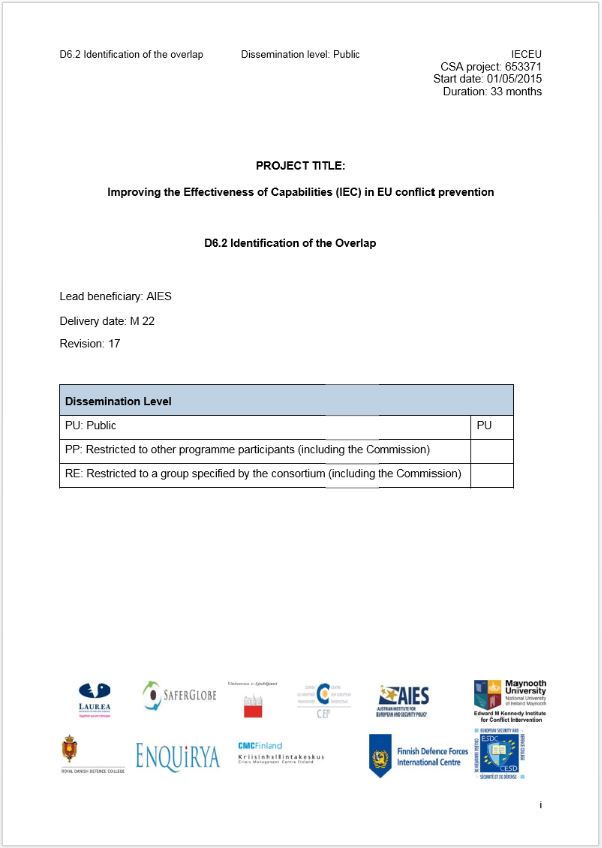 D6.2 IECEU Identification of the overlap
Lead beneficiary: AIES
Delivery date: M 22
Revision: 17
Executive Summary
The Common Security and Defense Policy (CSDP) operations and missions take place in a broad security environment that has undergone major transformations over the past two decades. Those evolutions are connected to the changing nature of security threats as much as to the concomitant adaptation of policy responses. For the EU as much as for any other crisis management actor, effective crisis management requires a sound understanding of the environment in which it operates, both in terms of 'the problem to be tackled' and in terms of 'the types of policy responses that are required'.
In addition, the crisis management spectrum encompasses activities that relate to security, civilian protection, the rule of law, security sector reform, institution-building, electoral support, economic recovery and development, humanitarian assistance, human rights, good governance, demobilisation and reintegration of former combatants, etc.
This diversity of crisis management operations requires a wide range of policy tools and responses, both civilian and military. The establishment of the European Security and Defense Policy /Common Foreign and Security Policy has been accompanied by the anticipation that the European Union will represent a unique strategic actor due to its ability to mix civilian and military crisis management instruments as part of a comprehensive approach.
However, very often it is perceived that the two worlds, i.e. the civilian and the military are different worlds, with their own sets of principles, mindsets, procedures and budgets, and a low level of interoperability and cross-sectoral efficiencies.
This deliverable assesses the current state of play of CSDP civilian and military instruments, their overlap and the potential for more effective streamlining of the two instruments with a view of creating synergies and efficiencies.
An in-depth analysis is given of the current comprehensive approach within the scope of the CSDP and the interaction between civilian and military actors (the civil-military interface). It details how the current approach to comprehensive action has developed, the key topics related to it, ways in which the policy frameworks on comprehensive approach have been implemented within the EU and looks at new challenges and upcoming developments.
This state-of-play is complemented by a detailed analysis at both politico-strategic level and fieldoperational level of how the civil-military interface works and what potentials can be identified
for further development. At politico-strategic level the civil and military capability to plan and conduct operations is reviewed, where the main finding is that both are separate stovepipes, where requirements are identified separately and support platforms differ.
At field operational level, one case study with both a civilian mission and a military operation is further analyzed, i.e. the Bosnia and Herzegovina (BiH) case study with the European Union Police Mission (EUPM) and the European Union Force Althea (EUFOR Althea). The case study does also confirm that the differences at politico-strategic level are continued at field-operational level, with differences in funding, equipment and reporting lines. Staff is left to deal with the differences at operational level.
The results have furthermore been tested by an online poll among experts and practitioners that was underlining the main assumptions of the deliverable.
The analysis is completed with a list of pragmatic recommendations to strengthen the civilianmilitary interface, which are grouped in two categories, i.e. temporal (short-medium-long term) and political feasibility (low-medium-high). They thus rank from possible short term measures with a high political feasibility, such as the development of a well-resourced and capable Military planning and conduct capability (MPCC) for non-executive military missions and for developing the CivMil interface to long-term measures with high political feasibility, such as ensuring that the political will is coupled with realistic levels of ambition for all aspects of CSDP capacities.