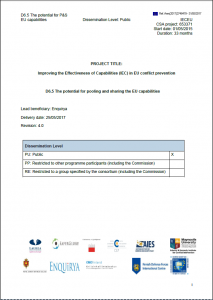 D6.5 The potential for pooling and sharing the EU capabilities
Lead beneficiary: Enquirya
Delivery date: 25/05/2017
Revision: 4.0
Executive Summary:
The Common Security and Defense Policy (CSDP) operations and missions take place in a dynamic and changing security environment that has seen major shifts over the past two decades. Those evolutions are connected to the changing nature of security threats as much as to the concomitant adaptation of policy responses. Thus, also for the EU and its member states, a comprehensive understanding of the threats as well as the capabilities and instruments to be deployed is essential.
The new environment has also made it obvious that – as the European Security Strategy of 2003 stated – no single country is able to tackle today's complex problems on its own.1 Furthermore, the financial and economic crisis starting in 2008 has added to a decreasingly defence spending among EU member states. Therefore, new forms of cooperation between EU member states needed to be developed, such as pooling and sharing, plus existing forms of cooperation, such as civil-military cooperation and interoperability were also considered in order to make CSDP more efficient and better adjusted to the current need of the EU as a genuine security political actor.
Based on the WP6 tasks and earlier deliverables, D6.5 will provide the description of the potential for pooling and sharing the capabilities in future in terms of the future threats and challenges. It summons the findings of the analysis carried out in the framework of IECEU as well as includes the outcome of the policy dialogue on interoperability and civ-mil interface held on 27 March 2017 in Brussels.
In general, there is a common understanding that in practice there are already concrete steps to improve the civil-military relations as well as to achieve a higher degree of interoperability. With regard to pooling and sharing, several initiatives are also under way which however are mainly focusing on the military equipment and capability sector. The analysis has nonetheless shown, that especially the area of training poses a huge potential for pooling and sharing which could be exploited in order to develop a European strategic culture that fosters early, rapid and where necessary robust crisis management.