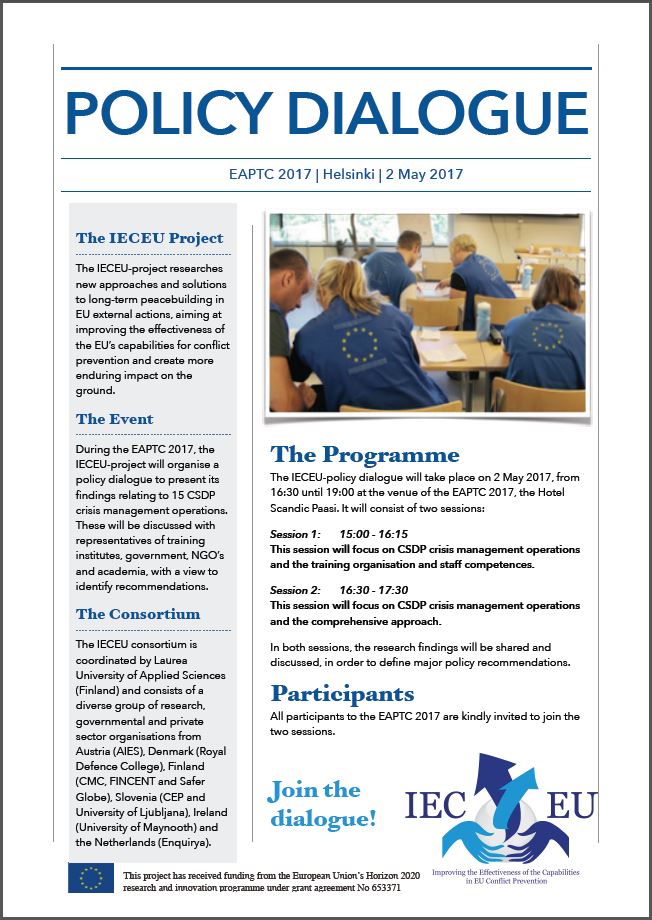 European Association of Peace Operations Training Centres (EAPTC) is holding its 5th Annual Meeting in Helsinki from 2 to 4 May 2017. Topic of the Meeting is "Addressing the contemporary challenges in multidimensional peace operations – from theory to practice".
The 5th Annual EAPTC Meeting will address some of the key challenges in the peace operations community, such as ethics in peace operations and peace building, protection of civilians and comprehensive approach. The co…nference focuses on lessons learned from contemporary peace operations, which can lead training institutions and academia to discover new approaches to meet the needs arising from contemporary crises. An important goal of the conference is to identify avenues for future research, training & education programs.
IECEU Policy Dialogue will be held on 2nd May as part of the event, addressing the findings from the research on CSDP missions and operations.
For more info and to apply please check: http://www.eaptc.org/2017/2017.html