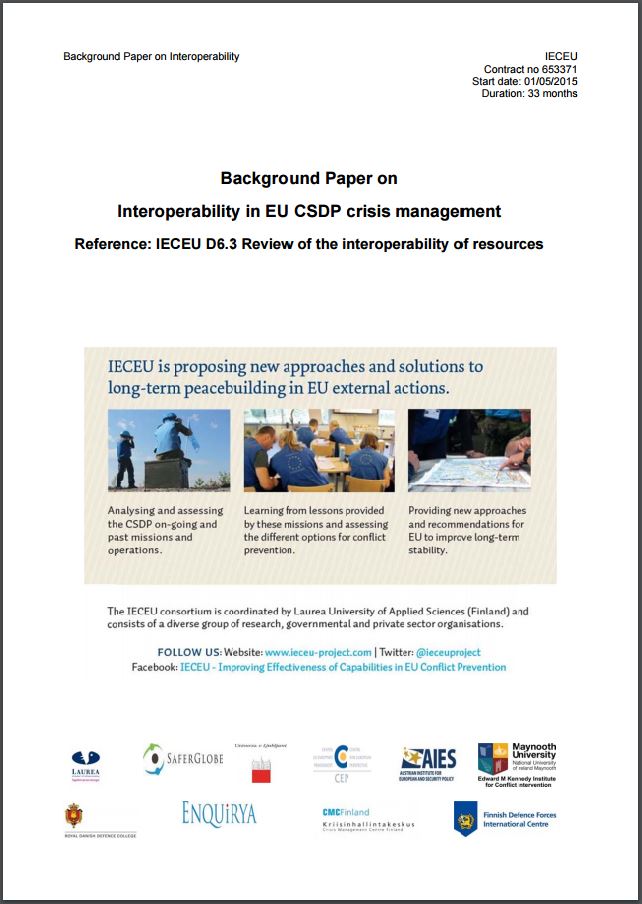 Background Paper on Interoperability in EU CSDP crisis management
Executive Summary
The purpose of this document is to raise the understanding of interoperability in the field of the European Union CSDP military and civilian crisis management. The scope of this document is built in IECEU (Improving the Effectiveness of the capabilities in EU conflict prevention) – project.
Interoperability relies on systems being able to both provide and accept services, unnits, tools and personnel, is the foundation of cooperation and pooling and sharing within crisis managementt. Poor interoperability or lack of interoperability leads to inefficiency, wasted resources and at the very worst, iinability to act. There are several on-going processes and initiative within EU to increase interoperability. Strenngthening interoperability is vital also within the civil-military environment, with the increasing focus on integrrated crisis management operations and an even more complicated security environment in the European neigghbourhood.
Through IECEU comparative analysis of interoperability in civilian CSDP crisis management missions (EULEX Kosovo, EUPOL Afghanistan, EUPOL COPPS, EUPOL RAFAH, EUBAM Libya, EUAVSEC South Sudan, EUFOR RD Congo, EUPOL Congo) and CSDP military operations (EEUFOR Althea, EUFOR Chad/RCA, EUFOR CAR, Operation Artemis (Congo)), IECEU has found potentials for enhancing interoperability in the current EU structures and practices. The seven key components of analysis on IECEU interoperability are:
(1) planning;
(2) staffing;
(3) shared services (mission support);
(4) equipment;
(5) command systems and information sharing;
(6) third state participation and cooperation;
(7) review systems.
Beyond the findings there are mechanisms to enhance interoperability, threee main challenges for interoperability identified as part of IECEU project can be concluded into three main areas: i) divergent, nonstandardised and sometimes contradictory national practices, which remain evident in CSDP operations and missions. ii) lack of a mind-set for increasing interoperability in practice especially in civilian missions, but also between civilian and military actors, even where increasing interoperability has no foreseen costs; iii) the current intergovernmental set-up of the CSDP crisis management operations, some of which, is based on the very foundations of the EU (including the Lisbon treaty), which hinders the development of interoperability.