Centre for European Perspective (CEP), University of Ljubljana (Faculty of Social Sciences) and the Finnish Defence Forces International Center (FINCENT) are organizing an IECEU round table discussion of experts on 24 May 2016 at Jable castle, Mengeš, Slovenia
IECEU project aims to identify best practices and lessons learned in CSDP missions and operations by analyzing the civilian conflict prevention and peace building capabilities of the EU, and to provide a catalogue of best practices, new solutions and approaches, which will be at the end of the project presented to the relevant institutions of the EU.
As part of the project several field research trips have been organized to the Balkans, Africa and Middle East/Asia. The objective of the field trips was to conduct a thorough analysis of the existing CSDP missions and operations, based on the methodological framework established as the first major goal of the project. The researchers conducted several interviews with the personnel of CSDP missions and operations, representatives of the local authorities, NGOs, academia etc. The preliminary findings from field research trips will be known in May 2016. In order to assess their quality, we are organizing a round table on 24 May 2016, where also your presence is appreciated.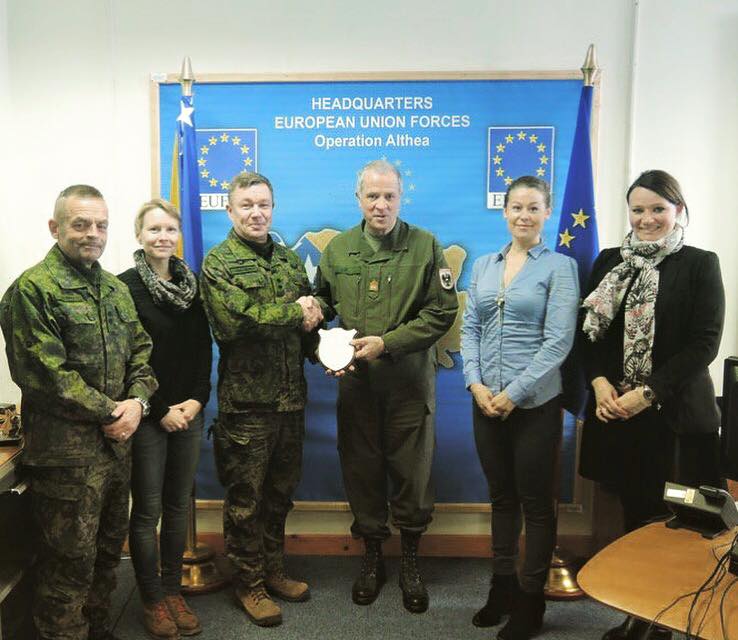 At this round table, only two CSDP missions/operations will be discussed: EULEX (Kosovo) and ALTHEA (Bosnia and Herzegovina). The objective of discussion is to confront the views and opinions from all sides in a constructive manner, which will enable to identify lessons learned, best practices and drawbacks regarding EULEX and ALTHEA. A discussion report, which will be used for further dissemination, will be prepared after the round table.
Preliminary agenda and speakers:
12.30 – 13.30 lunch
13.30 – 15.00 open discussion – according to Chatham House rules
Kurt Bassuener, Senior Associate, Democratization Policy Council, Bosnia and Herezgovina
Tobias Flessenkemper, Research member at the CIFE – Centre International de Formation Europeenne
Simone Guerrini, Operational Officer to Head of Mission, EULEX Kosovo
David Palmer, CIV. SHAPE EU/EUSG, Op ALTHEA, EU OHQ at SHAPE
Ariana Qosaj Mustafa, Programme Director and Senior Researcher at Kosovar Institute for Policy Research and Development – KIPRED
Christian Ramet, Political Advisor, European External Action Service, Civilian Planning and Conduct Capability, Operations Division – EULEX KOSOVO Desk
Kindly invited! Please sing up by e-mailing nina.cepon@cep.si