IECEU & WOSCAP projects gathered stakeholders of crisis management and conflict prevention
Writer: Kirsi Hyttinen, IECEU Consortium Coordinator, Senior Manager for Research, Laurea UAS
On November 8th, over 150 participants attended the conference 'Effectiveness and Inclusivity of EU Peacebuilding and Conflict Prevention' at the Scotland House in Brussels. During the conference, policy makers, academics and civil society, practitioners discussed around the findings of two EU-funded Horizon 2020 projects IECEU – Improving the Effectiveness of Capabilities in EU Conflict Prevention and WOSCAP
– Whole-of-Society Conflict Prevention and Peacebuilding. Aiming to improve peacebuilding through sustainable, comprehensive and innovative means, the projects presented recommendations around the cases of Ukraine, Mali, Yemen, Kosovo, Georgia, Afghanistan, Palestinian Territories and Bosnia and Herzegovina through a series of panel discussions. The panels addressed the EU effectiveness in conflict prevention through discussions around Security Sector Reform, Multi-Track Diplomacy, EU integrated approach, inclusivity and local ownership.
The conference ensured active dialogues and discussions among experts working within EU's Common Security and Defence Policy, crisis management and peacebuilding from different perspectives. Over 150 participants brought their experiences, expertise and professionalism to same conference room. EU institutions, governmental organisations, research institutes and universities, practitioners and NGOs were widely represented. These forums must be further enhanced to ensure the necessary visibity of EU's security actions internally and externally in the Union. The EU citizens are keen on receive information and knowledge as well as contribute within this field. The open discussions around peace building, conflict prevention and effective security and defense are highly advised by our experiences.
IECEU was responsible of two panels of the Conference. The aim of the first panel was to discuss about the Common Security and Defence Policy (CSDP) capability development and find solutions how to enhance effectiveness of the CSDP missions and operations. Panel was led by Petteri Taitto from Laurea UAS. IECEU methodology analysed the research findings through six capabilities. The six core capabilities identified were: planning, interoperability, competences, comprehensiveness, technology and operational capacities. The panel participants from IECEU (Annemarie Peen Rodt (Royal Danish Defence College) and Maria Mekri (SaferGlobe)) introduced the key research findings and EEAS representatives provided their point of views regarding the developments. Finally the panel elaborated the needs for enhancing the effectiveness of the EU CSDP missions and security sector reform. The challenges of CSDP missions and operations as short-term instruments (the road for transition through longer-term actions) were addressed and discussed further. It was also underlined that resources put to strategic and operational planning contribute to the efficiency of the mission.
Second panel organised by IECEU, discussed the way forward to enhance the effectiveness and looked towards new approaches and solutions in the field of crisis management and peacebuilding. The panel was led by Arnold Kammel from Austrian Institute for External Security. IECEU participants Mascia Toussaint and Tedla Desta provided the insights from IECEU policy discussion and research findings. It was addressed that there is a need for enhanced integrated approach, which requires the nexus of internal and external security as well as better strategic communication. In addition, a better use of technical components in CSDP missions and operations as well as civilian-military joint platforms were announced in terms of raising the effectiveness in this regards. Please familiarise yourself with this video of the Conference: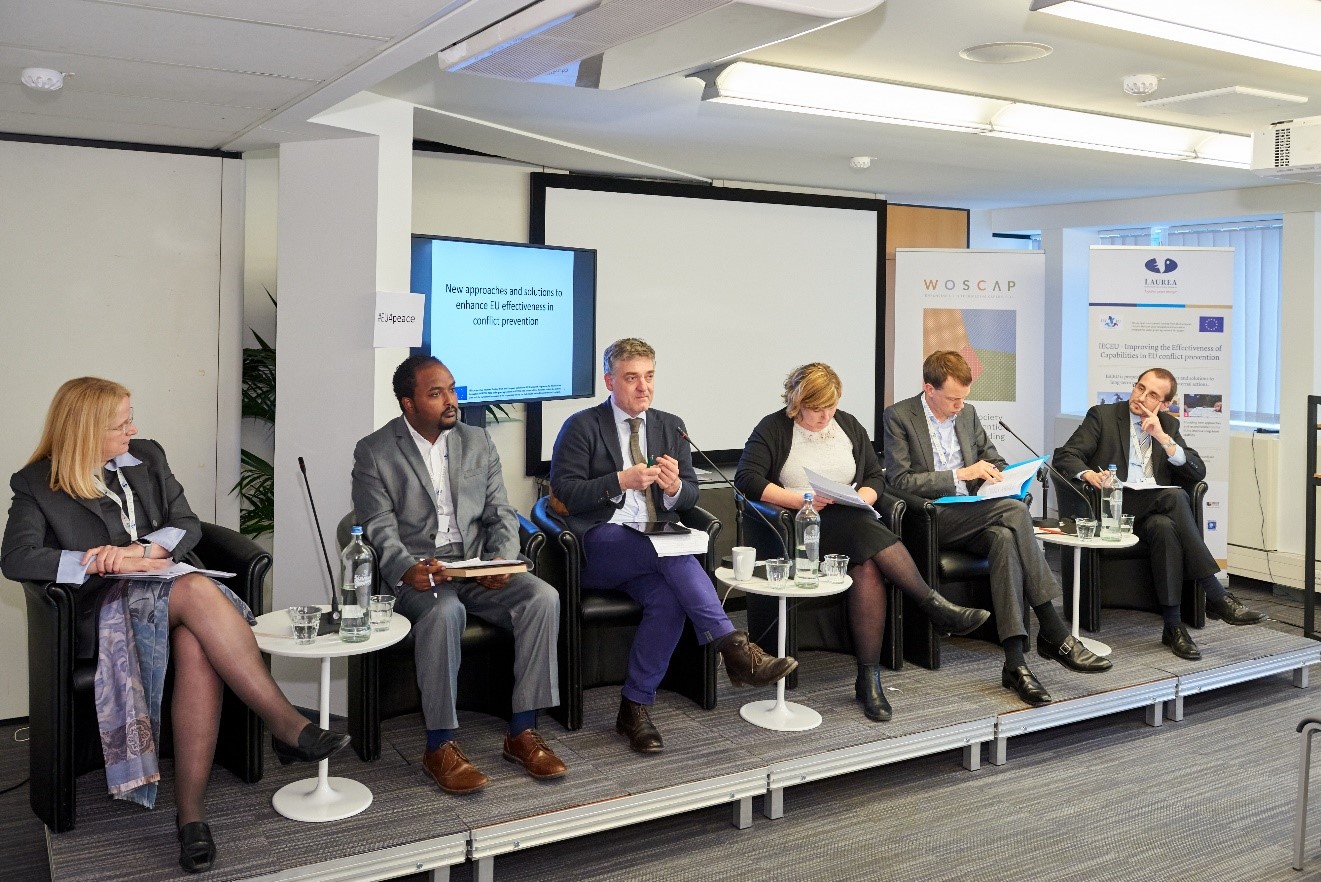 Comments before the Conference in IECEU Press Release (2017):
"Peacebuilding and conflict prevention need to involve a whole range of different actors in society. It is relevant because much of the discussion around intervention, state building, peacebuilding, conflict prevention, talks about issues like local ownership of policies, the legitimacy of interventions and the need for societal resilience. A whole of society approach speaks to that need to include the people dimension in peacebuilding, it is not just politics and policies, it is policies, politics and people", said dr. Mary Martin, Senior Research Fellow at the London School of Economics and Political Science.
Stefano Tomat, Head of Division of PRISM (Prevention of conflicts, Rule of law, SSR, Integrated approach, Stabilisation and Mediation) from the European External Action Service, will provide the official opening of the conference. After this, different panels will give insights in the results and recommendations of the WOSCAP and IECEU projects.
Dr. Rok Zupančič, University of Ljubljana, described IECEU project as a unique research, with nobody before analysing the CSDP missions and operations that extensively, while he is also looking forward hearing the results at the final conference.
WOSCAP project focused on three types of existing EU interventions, namely Multi‐Track Diplomacy, Security Sector Reform, and governance reform through a combination of desk and field research in Mali, Yemen, Georgia, Ukraine, Kosovo, Afghanistan, Sri Lanka, Guatemala and Honduras and produced a tailored set of recommendations to improve the EU's civilian means for conflict prevention and peacebuilding.
IECEU analysed best practices and lessons learned of eight on-going and past European Union CSDP missions and operations in the Western Balkans (Bosnia and Herzegovina, Kosovo), Africa (Congo, Libya, South Sudan and Central African Republic), Palestinian Territories as well as Afghanistan with the aim of providing a catalogue of practices, new solutions and approaches for the EU to guarantee long-term stability through conflict prevention and peacebuilding with special focus on pooling and sharing as well as civil-military cooperation.