New thinking and solutions are needed to strengthen ongoing development of EU's capabilities to tackle future security threats  
Authors: Kirsi Hyttinen, IECEU Consortium Coordinator/Senior Manager for Research, Laurea UAS, Maria Mekri, Executive Director, SaferGlobe & Kari Paasonen, Researcher, SaferGlobe
The EU's Common Security and Defense Policy is going through rapid development to better equip the European Union to deal with increasing complexity in its security landscape and to better ensure the safety of EU's citizens. In the backdrop are Trump's foreign policy and Brexit, and a renewed understanding that Europe's security needs to be safeguarded by European agents and action in the future. Still, the speed and breadth of the recent development is impressive. Recent development include, for example, modifications to the structures of EU's External Action Service, especially the creation of PRISM, and renewed commitment to both the development of the Global Strategy and Crisis Management. Most notably, the on 13th November, the European Commission decided to create a new Civilian Crisis Management Compact by the end of 2018 spring, this decision was confirmed by the European Council on the 14th of December.
The research during IECEU -project (2015-2018), together with 12 organizations from seven EU countries, shows a need for new solutions and approaches in the field of EU security and defence policy. Our work is based on evidence-based research, assessments and studies completed during the project in 2015-2017. The implementation of CSDP missions and operations was in general relatively successful in achieving goals set for them by the EU (e.g. mandate objectives/ internal appropriateness) but development is needed in creating more context-specific approaches that create lasting change. Specifically, missions and operations are often planned and executed quite linearly rather than through the creation of some kind of a planning-monitoring-evaluation cycle that would enable institutional learning and on-going development of crisis management. Stronger integration of lessons learned processes becomes all the more vital when crisis management is used as a tool to improve European security in addition to improving local stability. The processes that intertwine internal and external security concerns challenge current thinking and require on-going development.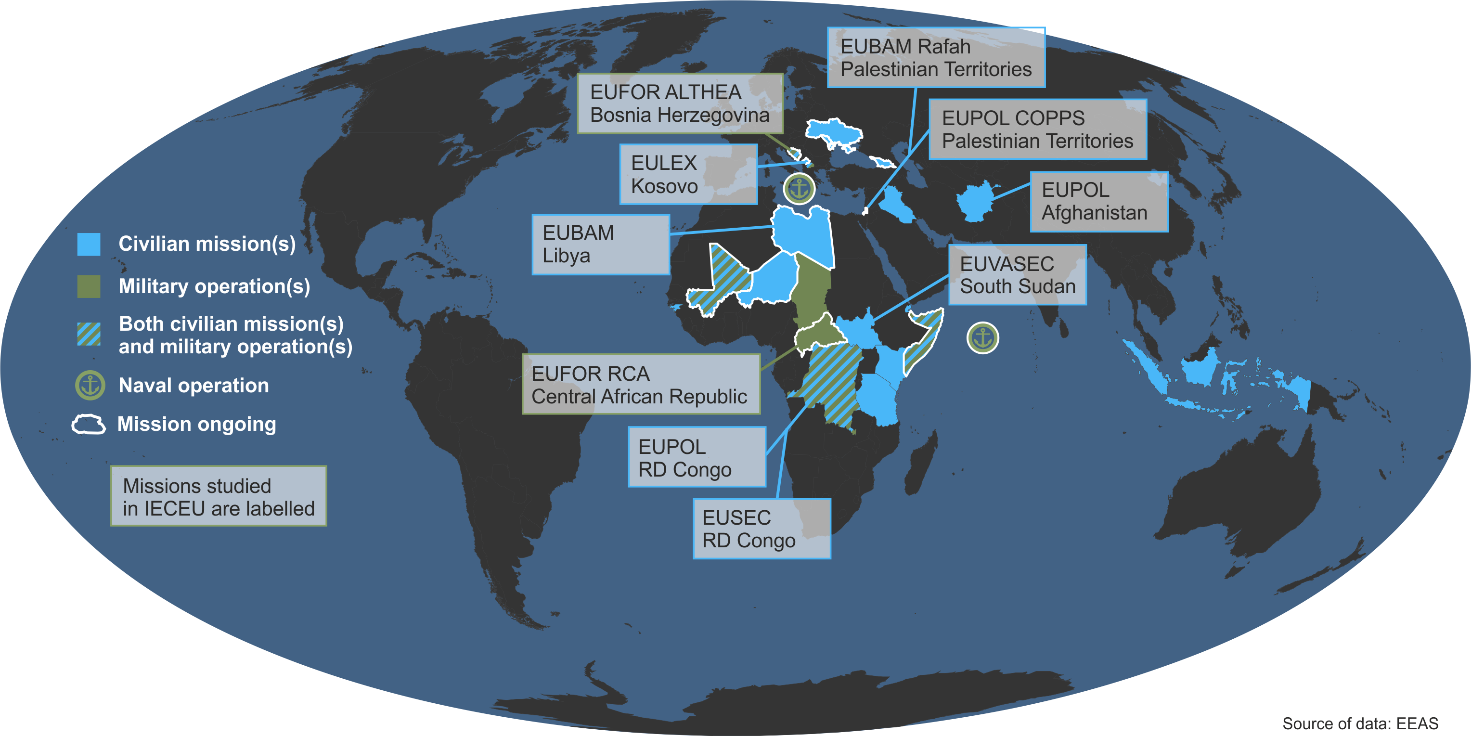 Picture: CSDP missions and operations after 2003 with IECEU case studies
IECEU Consortium, composed of 12 different organizations from different EU Member States has worked towards a safer European Union by providing recommendations and proposals on new approaches and solutions for conflict prevention and crisis management. A key finding is that increased specificity is needed: "EU crisis management and conflict prevention are confronted with the complexity of the security environment calling for tailor-made solutions to each and every crisis scenario" (IECEU D7.3, 2017).
The key improvements for EU's crisis management proposed by IECEU (end of 2017) focus on the importance of local ownership and involvement of local actors in each stage of the mission/operation (incl. planning), strengthening technical components of CSDP missions and operations, creating combined civilian- military platforms, and strengthening strategic planning through improving the conflict analysis. All these themes were stressed in the analysis of different case studies (Kosovo, BiH, Afghanistan, occupied Palestinian Territories, Libya, Central African Republic, South Sudan and DR Congo). The enhancements to the feedback loop between political/strategic level and operational/field level were highly recommended.
Active commitment of the EU member states to EU's Common Security and Defence Policy and the development of EU's abilities to deal with crisis situations is needed. However, the growing complexity and the need for increased specificity has also implications for EU's security research agenda, especially through the creation of more multidisciplinary studies on effective policies and effective implementation.
To achieve long-term impact, new solutions, approaches and thinking is needed to tackle future threats and challenges faced by the EU in both internal and external security.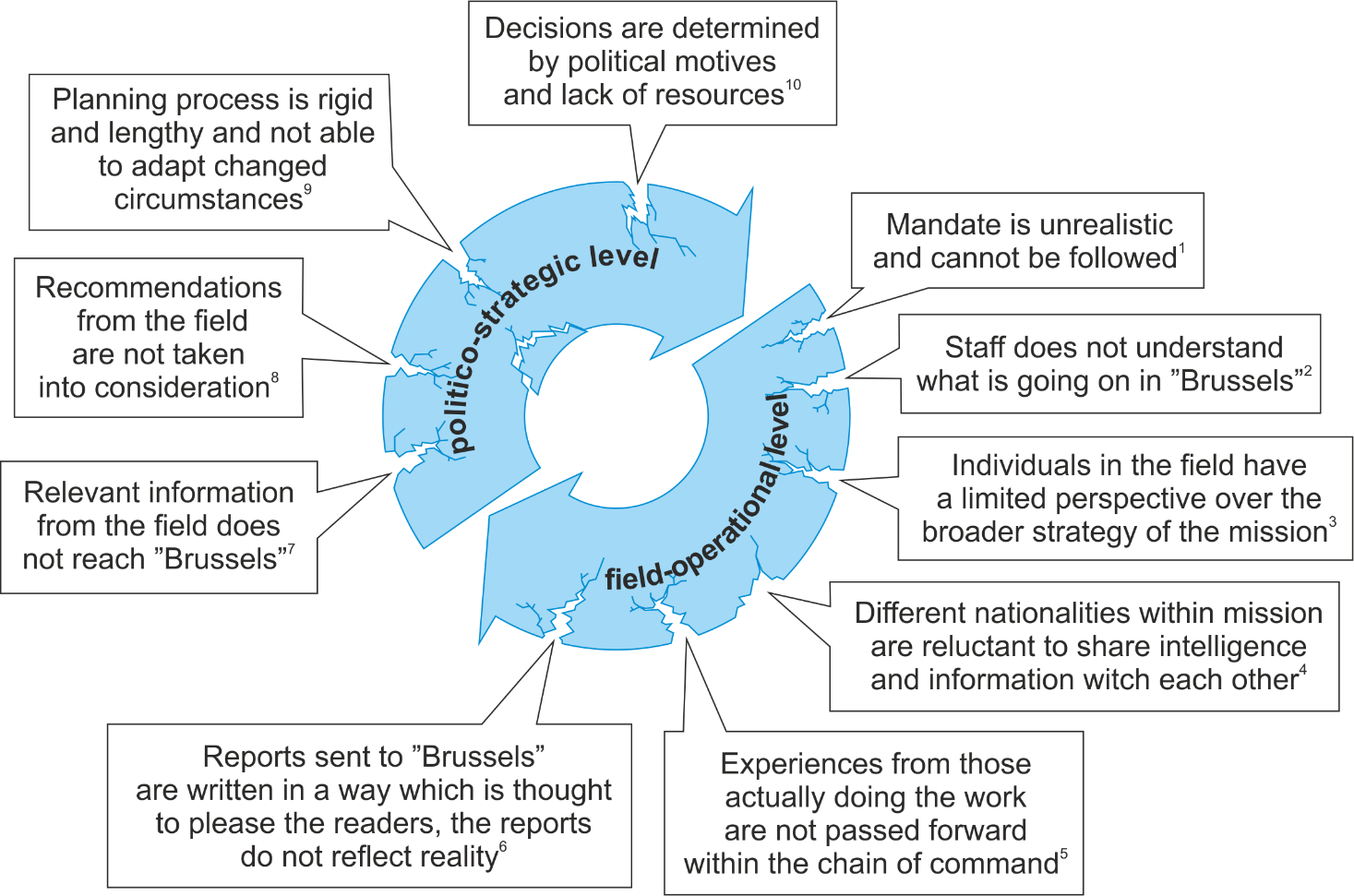 Picture: Challenges identified in practice in the ideal feedback loop
More:
http://www.ieceu-project.com/wp-content/uploads/2017/11/policy_brief_3-2017_ieceu_five_findings.pdf
http://www.ieceu-project.com/wp-content/uploads/2017/11/Recommendations-to-improve-the-effectiveness-of-EU-CSDP-crisis-management-operations-and-EU's-conflict-prevention-capabilities.pdf